Interactive Training
Sessions
iFit trainers move your transformation forward by interacting with and controlling the Pro 9000's speed, incline, and decline.
Streaming Global and Studio Class
Workouts
See the world while you run through cities and trails, or get pushed in a studio class, all led by personal trainers in your home.
Connected Fitness
Tracking
Check your progress as every training session is automatically recorded and even used to influence future fitness plans.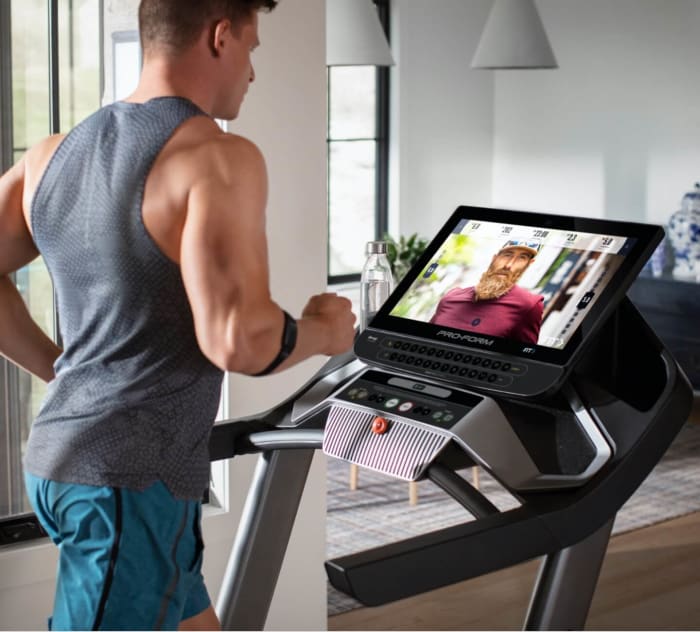 iFit is more than a membership
With the ProForm Pro 9000, you can say goodbye to extra costs and inconvenience. With an included 30 Day iFit membership, you'll be spending less and gaining more.
Home workouts mean less travel and more family time.
No need to show up to personal training sessions that cost a fortune and only last half an hour.
You gain back the time you need to cool down and relax after your workout.
No need to dress to impress. Wearing the same workout clothes as yesterday? We won't tell.
Stop tracking your stats manually. Your treadmill tracks your journey from the moment you start to the moment you've reached your goal.
Experience Personal Training in Your Living Room
Take your training to the next level with an iFit Family membership on the Pro 9000 treadmill. Engage in a whole new workout experience as streamed live and on-demand personal trainers lead you in studio classes and take you all around the world, automatically controlling your treadmill's speed, incline, and decline to give you a unique, hands-free workout.
More Than a Treadmill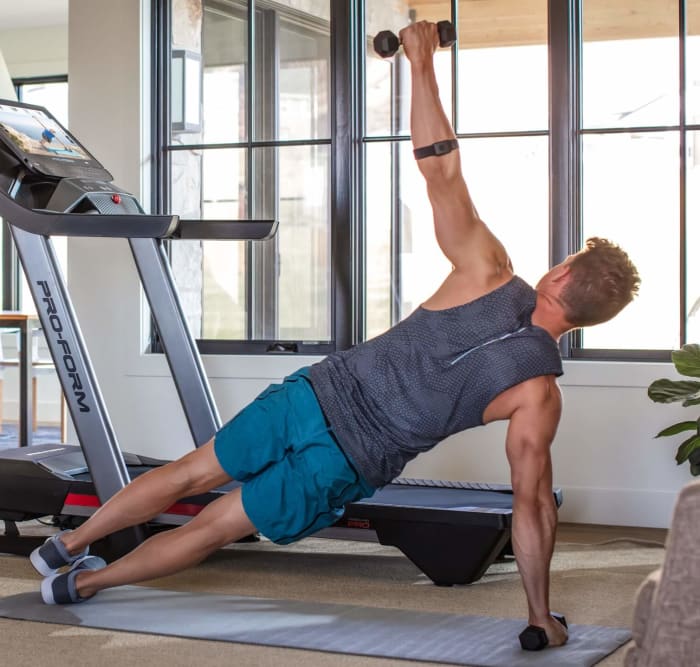 Build upper-body strength.
Get off your treadmill and follow iFit trainers as they guide you through body-toning workouts, working muscles you forgot you had. Dumbbells sold separately.
Cardio doesn't only mean running.
Work your muscles—heart included. Your iFit trainers will lead you through a variety of heart-pumping cardio workouts, both on and off your machine.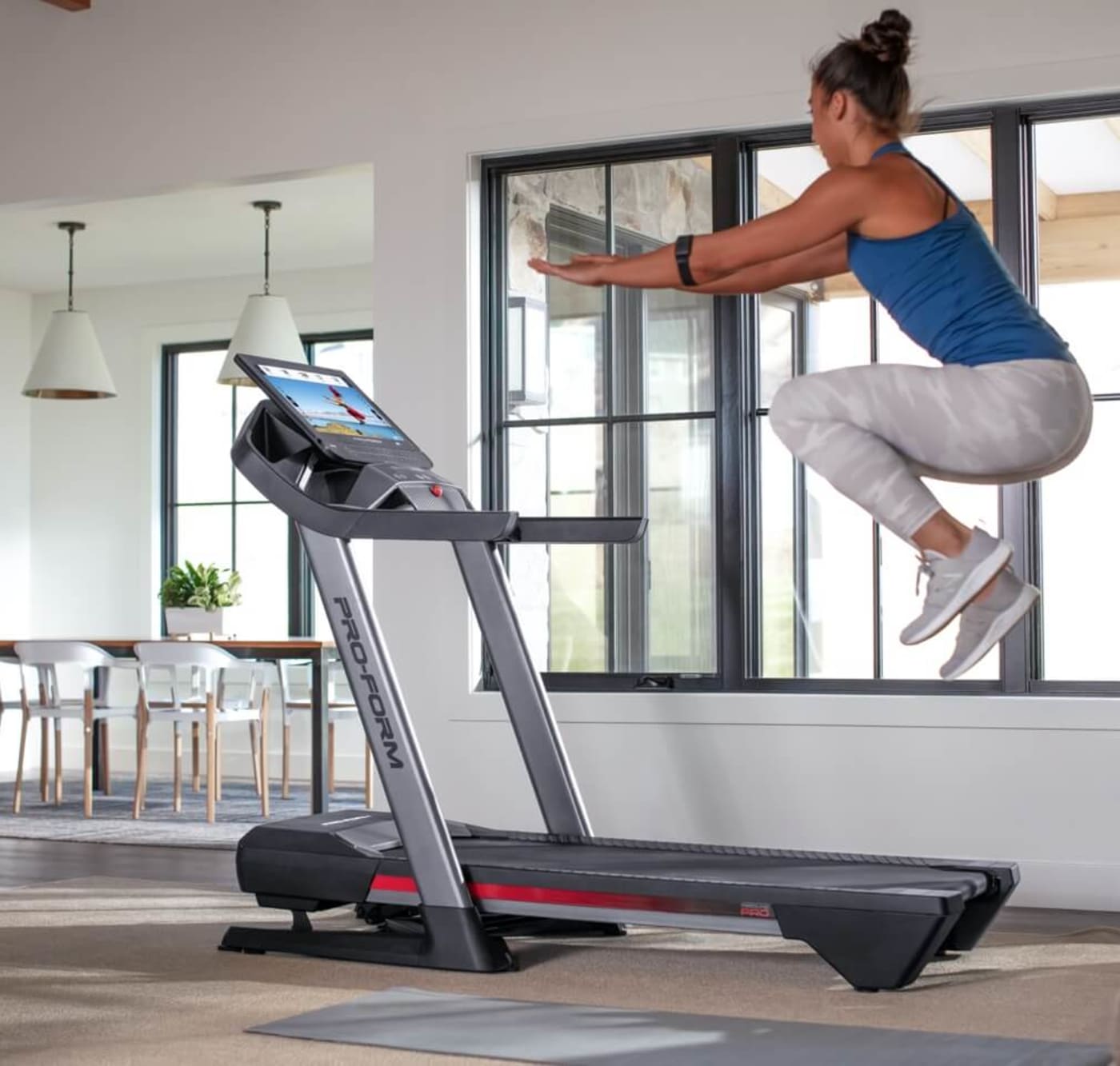 Smart and Beautiful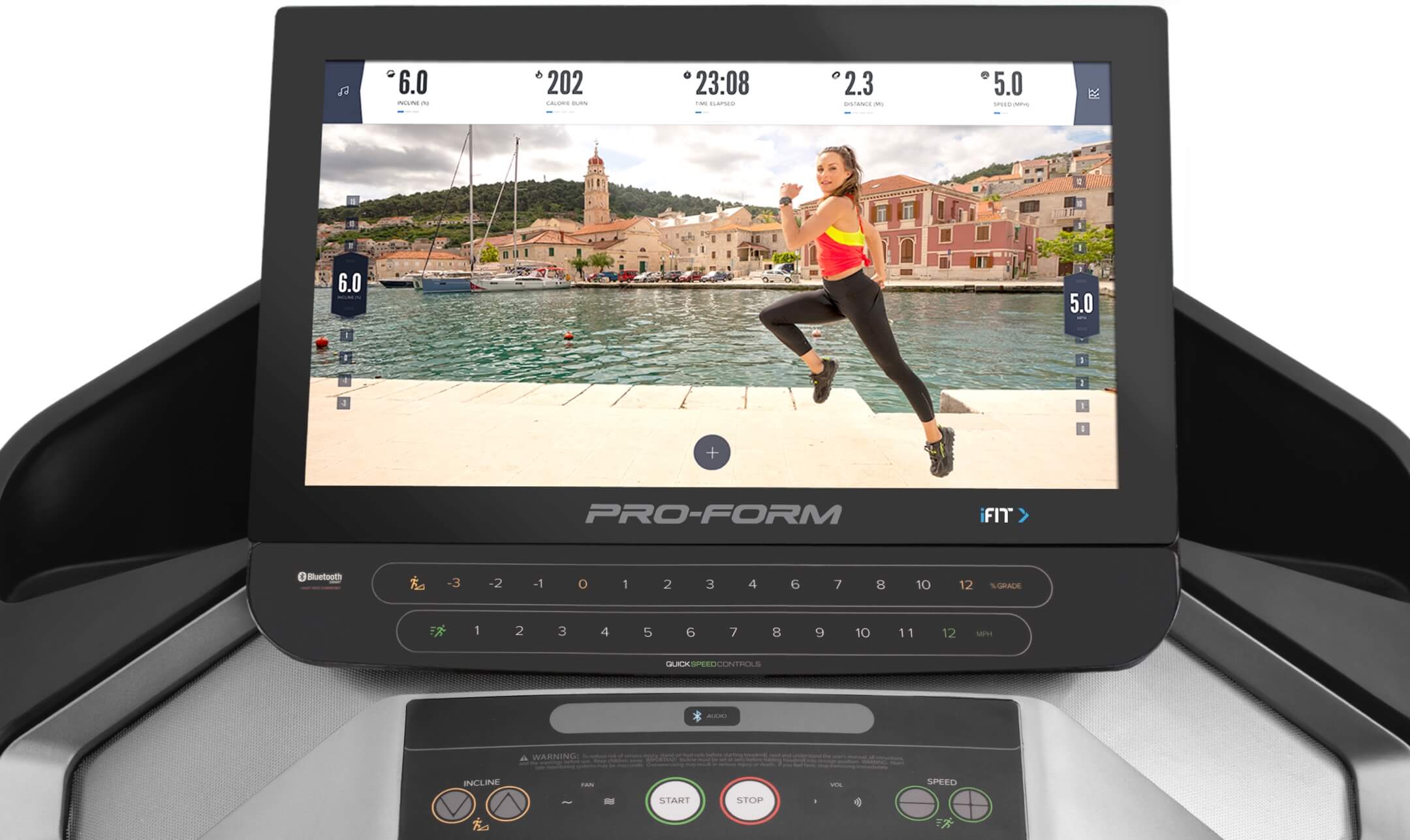 22" of Swipeable High Definition
The best training comes from following someone who knows what they're doing. And what better place to work out than inside your home? With interactive personal training and a machine that's designed for your home, an iFit membership brings knowledge and convenience to the Pro 9000.
Pro 9000 Features: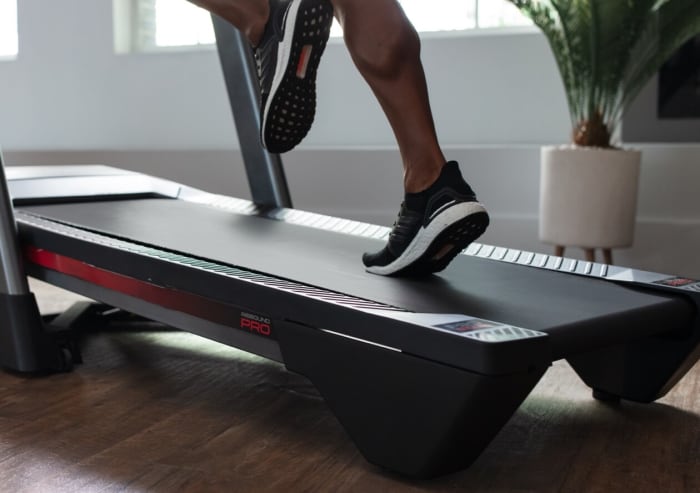 Step Down for a Soft Landing
We know your landing space should help you work out longer and more comfortably. The roomy, 20-by-60 inch deck is built with ReBound Pro™ cushioning, which is designed to give your legs a landing surface with more give so you can exercise with more comfort.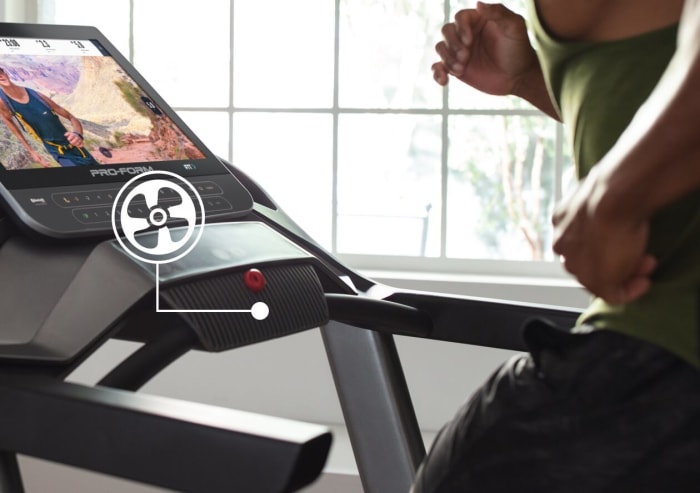 Keep Cool Under Pressure
Whether you're looking for a quick jog or a high-intensity long distance run, the built-in CoolAire™ workout fan is there to keep you on track. Adjust your level of breeze with a single push of a button and you'll be feeling the wind through your hair--so to speak.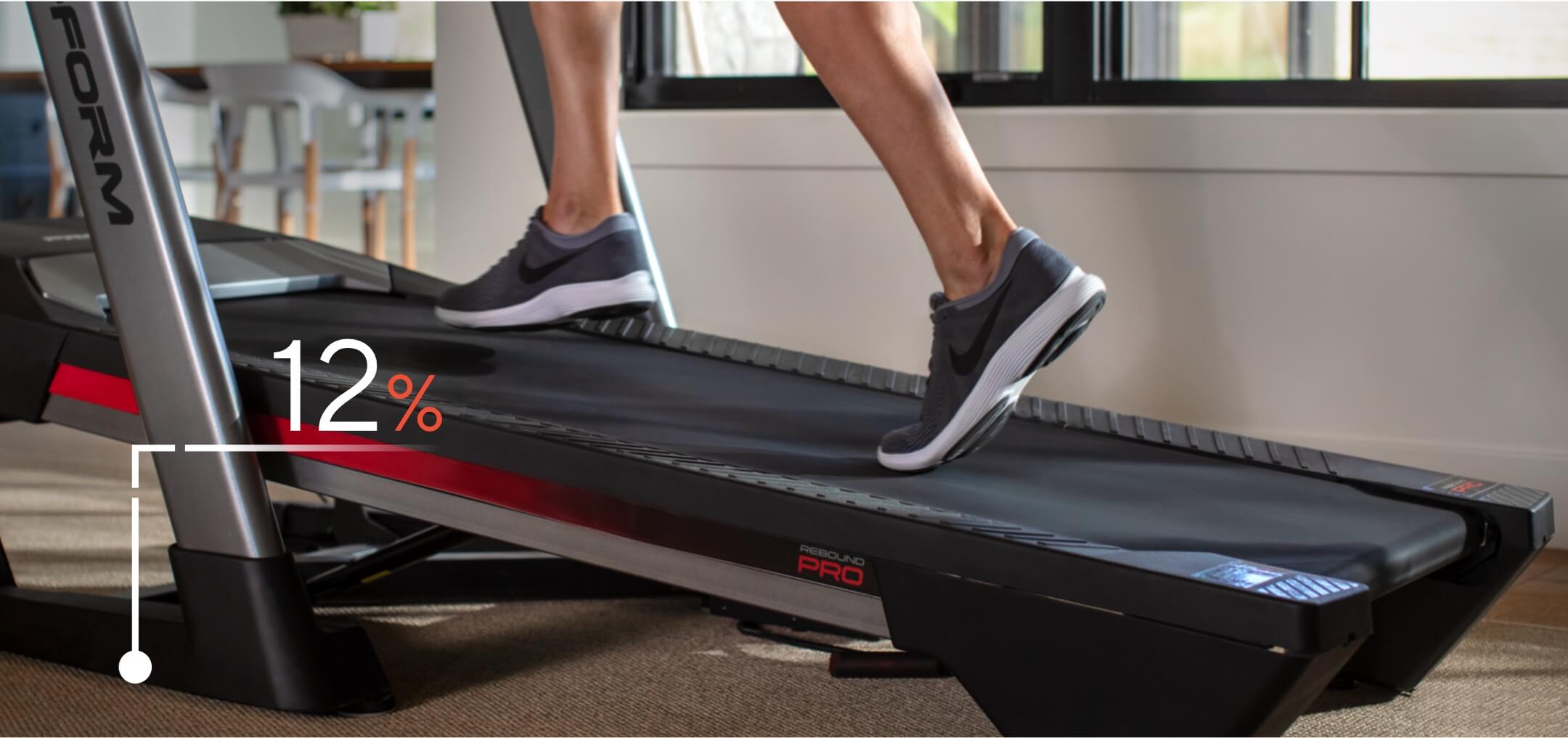 Run for the Hills—and Valleys
Whether you're following your trainer through limit-pushing studio workout classes or throughout the most beautiful locations in the world, the Pro 9000 lets your trainer automatically control your speed and incline, from a -3% grade up to 12%, to realistically match the terrain of the workout.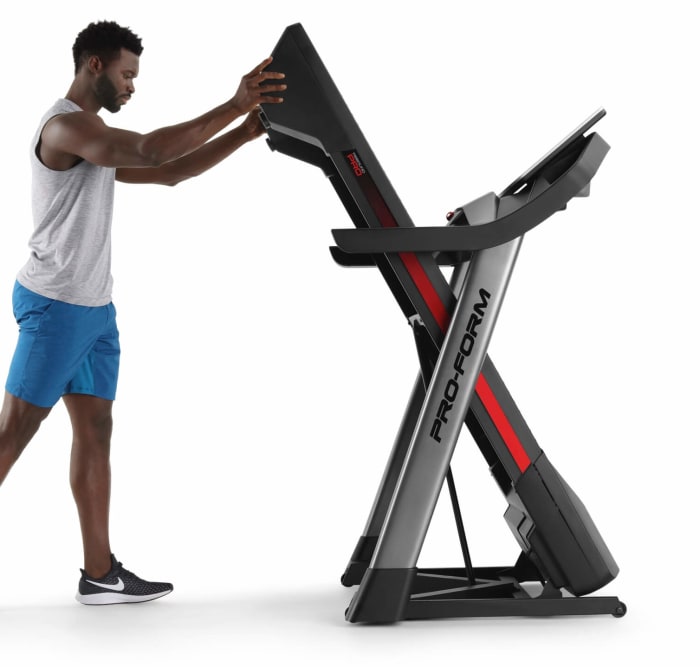 Maximize Your Space
We know it can be difficult to create space for a home gym, so we designed the Pro 9000 with SpaceSaver® Design, which means you can conveniently fold the deck up and out of the way. And with EasyLift™ Assist, you can use the built-in, powerful shock to help you lift the deck with an easy push.
Add the SmartBeat™ Forearm Heart Rate Monitor for Better Tracking†
Get hands-free heart rate readings while you train. The SmartBeat™ Forearm Heart Rate Monitor easily syncs to the Pro 9000 to give you a continuous heart rate reading on the screen. Sold separately.

Click here to shop the SmartBeat™ Forearm Heart Rate Monitor

†Not a medical device. Accuracy may vary.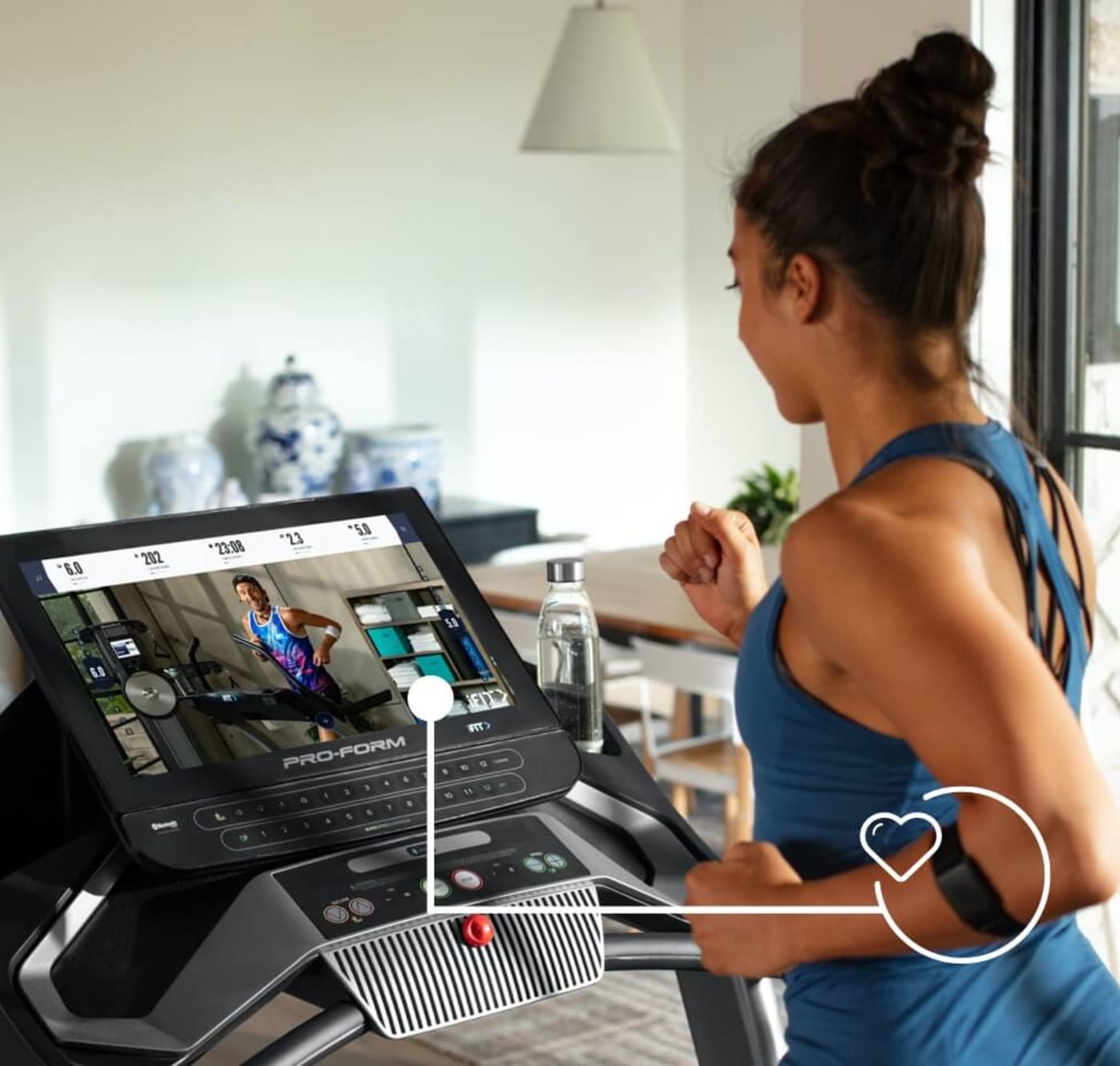 Tech Specs
Technology
iFit® Coach

iFit®Enabled, 30 Day Family trial Membership Included*

Reach Your Fitness Goals with Interactive Fitness Technology

Engage in a whole new fitness experience as certified personal trainers take your exercise around the world while automatically adjusting the speed and incline on your machine.

Workout Programs Limitless with iFit


iFit experience shown. WIFI and Internet required. 30-Day iFIT Trial Included
Credit Card required for activation. iFIT Membership auto-renews for $58/mo. unless canceled in advance. New memberships only.

Display

22" Smart HD Touchscreen

Follow Your Trainer and Watch Your Progress for Instant Motivation

Stay captivated and motivated as you follow along with your favorite trainers guiding your workout through beautiful scenery around the world. With this high-definition 22" touchscreen, it's also easy to swipe through and view your workout stats.

Heart Rate

The console is compatible with Bluetooth iFIT Smart heart rate monitors.

Heart rate monitoring helps you stay on course for your fitness goals. By working within the aerobic zone, you are building endurance while burning through your body's fuel storage. When you train in the anaerobic zone, you are improving your overall speed and time performance.

Optional HeartRate monitors are avaliable in the accessories catergory.
*Certain instances can hinder an accurate heart rate reading, including your physical characteristics, the type and intensity of your activity, etc.
Engineering
Motor

3.6 CHP Mach Z™ Commercial Pro

Strong and Durable for Miles and Miles

Choose the motor that will run with you from Chicago to Cape Town. Smooth. Powerful. Durable. Proven. The Mach Z™ Commercial Pro Motor stays cool through the toughest workouts; creates high levels of inertia for a smooth, powerful feel; and promises a quiet in-home experience. Great for heavy use, this motor is built with high-grade components proven with our lifetime warranty.

Tread Belt

51cm x 152cm

Room to Stretch out Your Stride

Give your legs plenty of room to get moving. The extended 152cm length is long enough to let you stretch out your stride, and the huge 51cm width provides you with loads of comfortable elbow room. To ensure our treadmills are top quality, we test each belt for one million cycles at double the user weight before release.

Speed

1 – 22 KPH Digital QuickSpeed® Control

The Pace You Want, the Ease You Deserve

Not everybody likes to run at 22 kilometers per hour. But it's nice to know this treadmill can totally handle it. Thanks to a bigger motor size, we are pretty proud of this machine's 22kph top speed. Our in-home efficiency booster means you can run every day without using excessive amounts of electricity. And the convenient QuickSpeed® buttons let you adjust your intensity instantly, so you can stay focused through every step of your workout.

Incline

-3 – 12% Digital Quick Decline™ & Incline™ Control

Higher Intensity, Higher Calorie Burn

We consider incline training the treadmill game changer—you can realistically condition your body for those challenging uphill routes. The Pro 9000 offers powered, automatic incline adjustability. When you train with incline, you know you're giving your legs the best workout possible on a treadmill. For the complete real-world experience, take your grade into the negative for the full range of training.

Cushioning

ReBound Pro™ Cushioning

Full Deck Support Right Where You Need It

Our No. 1 goal is to provide a comfortable run—and a comfortable walk. Every treadmill we release is equipped with cushioning throughout the deck area. Our patented shock absorbers keep the impact to a minimum, so as you walk, jog, or run, your joints will be thanking you. With less stress on your feet, ankles, knees, and hips, you'll be able to enjoy a longer workout and faster recovery time.
Comfort
Folding Deck

SpaceSaver® Design with EasyLift™ Assist

Reclaim Your Living Space

We know you like your house to be clutter-free. So we invented a treadmill that folds up and out of the way when you're done with your workout. It totally rocked the fitness industry; but honestly, we're just glad you don't have to sacrifice your living space for your fitness habit anymore. And as an added bonus, we built in a powerful shock that helps you lift the deck with an easy push.

Fan

CoolAire™ Fan

Feel the Breeze

Our built-in CoolAire™ fan keeps your workout comfortable from the moment you step onto the deck to the moment you step off. Choose from two speed settings for instant control—because one of the joys of indoor workouts is climate control. Even if it's raining, foggy, blazing hot, or bad air quality outside—you'll be comfortable inside.

Audio

Dual 2" Speakers

The Sweet Sound of Motivation

Tune in to a better sound system. The built-in dual 2-inch speakers lets you hear your iFIT trainer as they guide you through your workout.
Additional
Weight Capacity

135kg.

Engineered to Carry the Weight

Built with the whole family in mind, the Pro 9000 treadmill accommodates up to 135kgs.

Warranty

5 Year Motor and Lifetime frame guarantee

We want to help you protect your investment. That's why we try to go above and beyond with our product warranties. The PRO 9000 is protected with a 2 Year parts and 1 Year labour, 5 Year motor and Lifetime frame guarantee upon warranty registration within 28 days of purchase..

Footprint

90cm Wide x 196cm Long x 151cm Tall

Some Assembly Required

Folded Dimensions
L 113cm x W 90cm x H 177cm
Box Dimensions & Weight
L 212cm x W 85cm x H 37cm 119kg
Request Free Consultation