Row for the Burn—the Workout You've
Been Waiting For
Get into Shipshape
Work the Muscles You Forgot You Had
Along with providing a great cardio workout, rowing with the right form targets up to 14 areas of your body with every full stroke.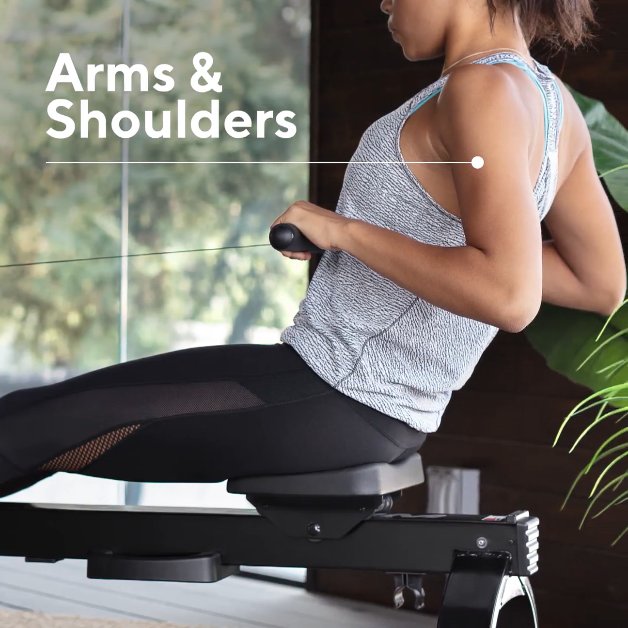 Arms & Shoulders
Biceps
Triceps
Forearms
Shoulders
Deltoids
Core & Back:
Lats
Lower, Mid, and Upper Back
Abdominal
Lower Body:
Glutes
Hamstrings
Quads
Calves
Technology

Display
High-Contrast Display

Stay in clear control and simply track your workout stats with this easy-to-view high-contrast display. View stats like your strokes, time and distance.

Engineering

Seat
Ergonomic, Molded Seat with Oversized, Steel Seat Rail

We've learned that the best fitness experience is all about the details. With the 600R, your training will be realistic, yet comfortable. The seat rail is solidly engineered with steel to keep you going strong all workout long.
Handlebars
Multi-Position, Adjustable Handlebars

Ergonomically designed for comfort, the soft touch handlebars cut down on fatigue so you can row longer. A 90" pull strap lets you pull back as far as you need without stopping short.
Pedals
Oversized Pivoting Pedals with Adjustable Foot Straps

Designed to keep your feet in place, these pedals are built to increase stability with adjustable foot straps that hold you throughout your entire workout.
Flywheel

Inertia-Enhanced Flywheel


Experience a smooth, steady rowing stroke with the flywheel made to perform. A faster gear ratio and effective weight placement deliver a more natural rowing experience.

Comfort

SpaceSaver® Design
SpaceSaver® Design

The 600R was designed and engineered with your living space in mind. The time-saving and fitness benefits of a rower in your home are incredible.Thankfully, the 600R was built with a unique SpaceSaver® Design that allows it to simply fold up for a much smaller footprint. Just lift the handle and the machine will collapse into itself.
Transport Wheels
Front-Mounted Transport Wheels

Moving this rower out of the way is fast and easy with the front-mounted transport wheels.

Additional

Weight Capacity
115KG. Weight Capacity
Warranty
Lifetime Frame, 2-Year Parts & 1 year Labor Warranty

The ProForm® 600R Rower is protected with a Lifetime Frame Warranty and a 2-Year Parts & 1 Year Labor Warranty.
Footprint
The product dimensions for the R600 are 65 x 56 x 215 cm.
Request Free Consultation