Meet iFIT+
Your ticket to unlimited iFIT training and one piece of FREE equipment. Run, ride, row or hike your way to new heights and keep going! Purchase 3 years of iFIT Family Membership $1,797 total and take your pick of any one of the iFIT+ machines.
Interactive Cycling Sessions Inside Your Home
iFIT Interactive
training
Move and sweat through an expansive
collection of trainer-led
workouts. Our trainers guide your
exercise by controlling your bike's
resistance to match the intensity of
their workout—all from the comfort of
your own home.
30 Days iFit® Family
Trial Membership Included◊
Interactive Training Sessions
iFit cycling trainers move your transformation
forward by interacting with and controlling the
C10U Bike's resistance.
Streaming Global and Studio Class
Workouts
See the world while you Mt. Bike, Road Bike,
or get pushed in a studio class, all while being
led by a personal trainer in your home.
Connected Fitness Tracking
Check your progress as every cycling session is
automatically recorded and even used to
influence future exercises and nutrition plans.
◊After 30 Days, subscription auto renews with fee. Review your iFit® Coach account on a computer, tablet, smartphone, or equipment console.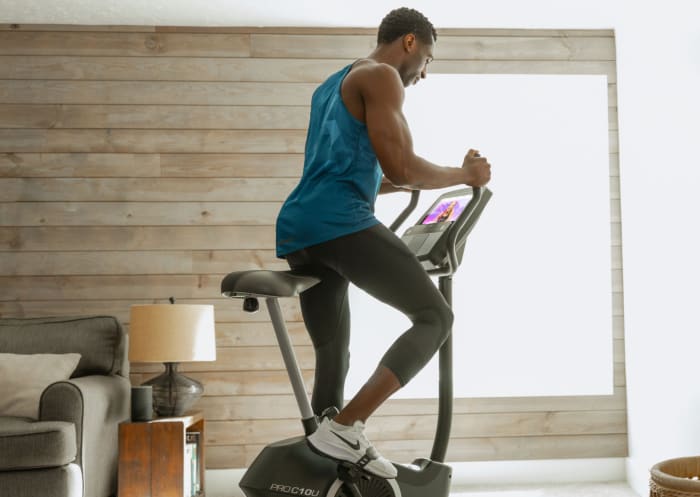 Interactive Training
Follow your iFIT trainers as they lead you in fast-paced studio classes and breathtaking global rides.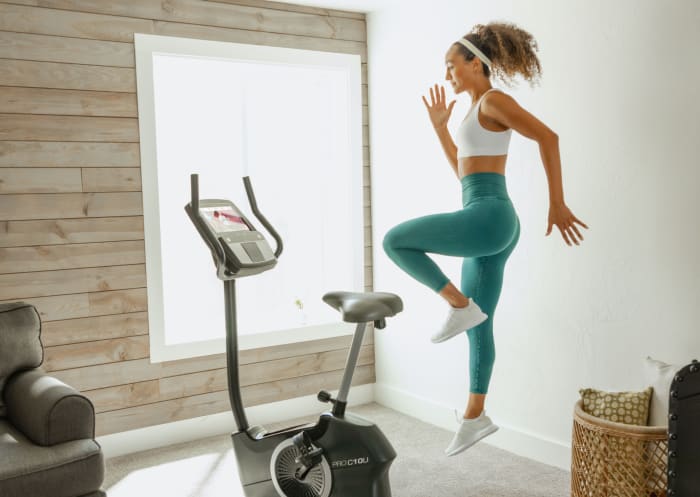 Off-Bike iFIT Workouts
Take your workout to the floor to open up even more full-body exercises and movements.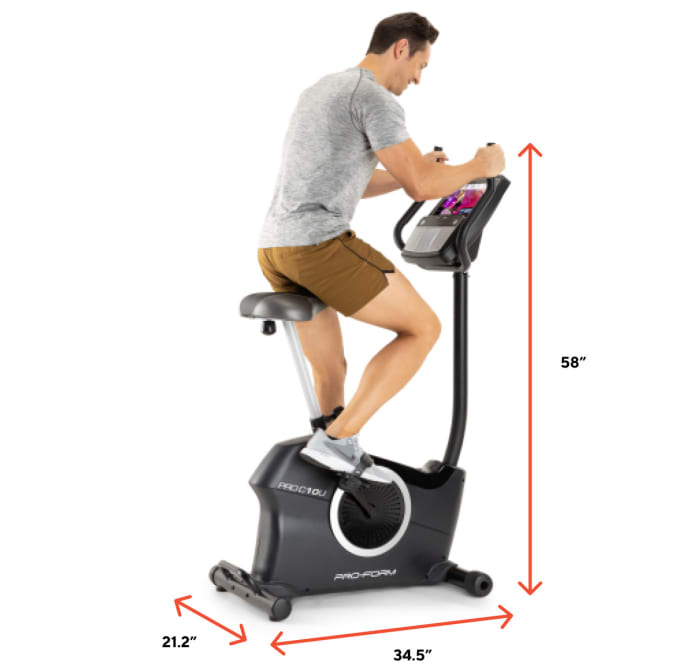 Interactive Training For All
We've engineered the ProForm C10U Exercise Bike to adjust to fit most user heights. Move the seat up and down to find the right position for you.
Seat
Oversized Cushion
Vertical and Horizontal Adjustment
Immersive Audio
Dual 2" Speakers
Bluetooth Headphone Compatible
Confidence
Footprint: 21.2" W x 34.5" D x 58" H
10 Year Frame Warranty
1 Year Parts and Labour Warranty
Performance Specs
Technology
iFIT®

iFIT® Enabled, 30 day iFIT Trial included*

Engage in a whole new fitness experience as certified personal trainers take your exercise around the world while automatically adjusting the resistance on your machine.

*After 30 days, subscription auto renews with fee. Review your iFIT® account on a computer, tablet, smartphone, or equipment console.

Display

10" Smart HD Touchscreen

Fitness is at your fingertips with a 10-inch smart HD touchscreen. With your iFIT membership, you'll be able to follow your personal trainer through beautiful destinations and studio workouts and you'll have instant access to your workout stats.
Engineering
Frame

Upright Frame with High-Quality Construction

This comfortable frame is easy to mount and made out of premium long-lasting materials.

Resistance

25 Resistance Levels with SMR™ Silent Magnetic Resistance

With 25 digital resistance levels, the Pro C10U allows you to start out easy and progress to intense. Each level is smooth, frictionless and silent with our patented SMR™ Silent Magnetic Resistance.

Flywheel

Inertia-Enhanced Flywheel

Experience a smooth, steady pedal stroke with the flywheel made to perform. A faster gear ratio and effective weight placement deliver a more natural striding experience.

Pedals

Ergonomic Pedals with Adjustable Straps

Designed to keep your feet in place, these pedals are built with straps to increase stability.
Comfort
Water Bottle Holder

Water Bottle Holder

Stay hydrated throughout your workout by keeping your water bottle close. This convenient water bottle holder is built into the bike frame for easy access.

Transport Wheels

Front-Mounted Transport Wheels

Moving this bike out of the way is fast and easy with the front-mounted transport wheels.

Audio
Dual 2" Speakers, Bluetooth® Headphone Compatible

Immersive dual 2-inch speakers provide clear instruction and motivational music to help you lose yourself in the ride. Experts have learned that we actually increase or decrease our pace to match the tempo of our tunes. Plus, music has also been proven to lower perceived exertion. That's great news.
Seat

Ergonomic, Padded Seat

We've learned that the best fitness experience is all about the details. With the ProForm C10U, your training will be realistic, yet comfortable. Adjust the seat vertically and horizontally to find the perfect fit. For added customizability, you have the option to install your own, personal seat.

Leveling Feet

Adjustable Leveling Feet

Keep your bike stable on an uneven surface with these adjustable leveling feet.
Additional
Weight Capacity
The total max user weight is 125 kg.
Warranty

Lifetime Frame, 2-Year Parts, 1-Year Labor Warranty

Your Investment, Protected. The ProForm C10U Upright Bike is protected by a lifetime frame warranty, 2 year parts and 1 year labour.
Request Free Consultation